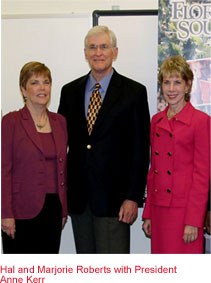 In September, 2006, Florida Southern College President Anne Kerr announced the establishment of the Roberts Center for Learning and Literacy, made possible through a gift from long time Lakeland residents Hal and Marjorie Roberts. In making the announcement, Dr. Kerr said, "The Roberts Center will have a far-reaching, positive impact on the reading and learning skills of our local school children. Florida Southern students will receive specialized instruction in the latest developments in identifying and addressing the learning needs of student populations through both required coursework and a series of annual lectures by nationally renowned educators in the fields of learning and literacy." With those words, the inaugural season of the Roberts Center Distinguished Lecture series began. Carol Kranowitz, author of The Out-of-Sync Child, presented a morning lecture to faculty and students and an evening lecture to area teachers and the general public on October 25, 2006. That month also marked the beginning of a national search to select the first Director of the Roberts Center for Learning and Literacy. In June, 2007, the College selected David J. Wood, Ph.D., associate professor of education, as the first Hal and Marjorie Roberts Chair in Learning and Literacy and the director of the Roberts Center for Learning and Literacy.

Dr. Wood joined the faculty at Florida Southern in 2001 as a specialist in exceptional student education. Prior to joining the faculty, Dr. Wood served as a public school teacher, curriculum consultant, assistant superintendent, executive director of Exceptional Student Services in metropolitan Denver, Colorado, and coordinator of Colorado's Education Policy Fellowship Program in conjunction with the Institute for Educational Leadership in Washington, D.C.
As director of the Roberts Center, Dr. Wood will work with local school systems to develop outreach programs, coordinate active learning projects between college students and local
teachers, teach both graduate and undergraduate courses in the Division of Education, and through grantsmanship and the building of alliances with regional educators, identify and fill the critical gaps in services to children who are experiencing dyslexia and other learning differences.

The Roberts have three children who have graduated from Florida Southern College. Mrs. Roberts is a member of the Florida Southern College Board of Trustees. The Roberts family has been actively involved in the support of educational excellence for many years.

"Between kindergarten and third grade, children learn to read so that for the rest of their lives they can read to learn." –Trustee and donor Marjorie Roberts