All lectures are presented in the Anne MacGregor Jenkins Recital Hall on the campus of Florida Southern College unless otherwise noted. This auditorium, housed within the Robert A. Davis Performing Arts Center, is adjacent to both the John Branscomb Memorial Auditorium and the Honeyman Pavilion where Roberts Center receptions and book signings are held. The closest parking lot is on Johnson Avenue which is on the west side of the campus.
OCTOBER 25, 2006

Carol Kranowitz, The Out-of-Sync Child
Carol presented a sensory integration focus with a morning lecture for students and faculty and an evening lecture for the public, followed by a reception and book signing.

photo: Book cover
SEPTEMBER 11, 2007

Dr. Mel Levine, All Kinds of Minds
Dr. Levine lectured on generic learning differences with an afternoon lecture for students and faculty following a formal luncheon. There was an evening lecture for the public, followed by a reception and book signing.

photo: Hal and Marjorie Roberts, Dr. Levine, Julia Roberts-Murphy and President Kerr
FEBRUARY 26, 2008

Rosalie Davis, Orton-Gillingham Trainer from the Schenck School, Atlanta
Mrs. Davis will lecture on multisensory phonics approaches for students experiencing reading difficulties at an afternoon session for students and faculty, followed by a 7:00-8:30 PM session for the public with a reception thereafter. (Childcare provided)

photo: Mrs. Rosalie Davis, Associate Head of Schenck School, Atlanta, GA
MARCH 27, 2008 (Founder's Week)

Drs. Bennett and Sally Shaywitz, Overcoming Dyslexia
Drs. Shaywitz are among the world's leading researchers into the cause and cure for dyslexia. They will share their research findings on the epidemiology and neurobiological basis for dyslexia, coupled with remediation strategies from the Yale Center for the for the Study of Learning, Reading and Attention. The 6:30-8:30 PM lecture will be followed by a reception and book signing.(Childcare provided)

photo: Dr. Bennett and Dr. Sally Shaywitz, Yale University School of Medicine
The following are among the nationally renowned speakers the Roberts Center for Learning and Literacy is endeavoring to bring to the campus: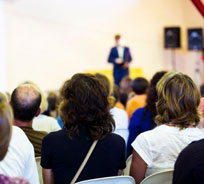 • Dr. Marilyn Jager Adams, Beginning to Read: Thinking and Learning about Print
Dr. Adams' focus is on strategies for the development of early literacy.
• Kelly Dorfman
Ms. Dorfman focuses on how sensory integration and nutrition interact, with a particular emphasis on non-drug interventions.
• Drs. Brock and Fernette Eide, The Mislabeled Child
The Eides have researched and lecture on neurologically-based approaches to remediating learning differences.
• Richard Lavoie, Last one Picked, First One Picked On
This internationally renowned lecturer has a focus on the social implications of learning differences.
• Dr. Lucy Jane Miller, Sensational Kids: Hope and Help for Children with Sensory Processing Disorder
Dr. Miller is one of the nation's leading researchers in the field of sensory integration disorders and its resulting research-based occupational therapy which specifically addresses such disorders. She works tirelessly to see sensory integration disorder recognized as a disability in the next revision of the Diagnostical and Statistical Manual of Mental Disorders.
• Paul Orfalea, Copy This! Lessons from a Hyperactive Dyslexic Who Turned a Bright Idea into One of America's Best Companies
This entrepeneur and founder of Kinko's shares his life story.
• Shelly Shellenberger and Mary Sue Williams, How Does Your Engine Run?
These speakers provide an overview of the Alert Program from Therapy Works, Inc.